March Teacher Spotlight: The Jenison Dream Team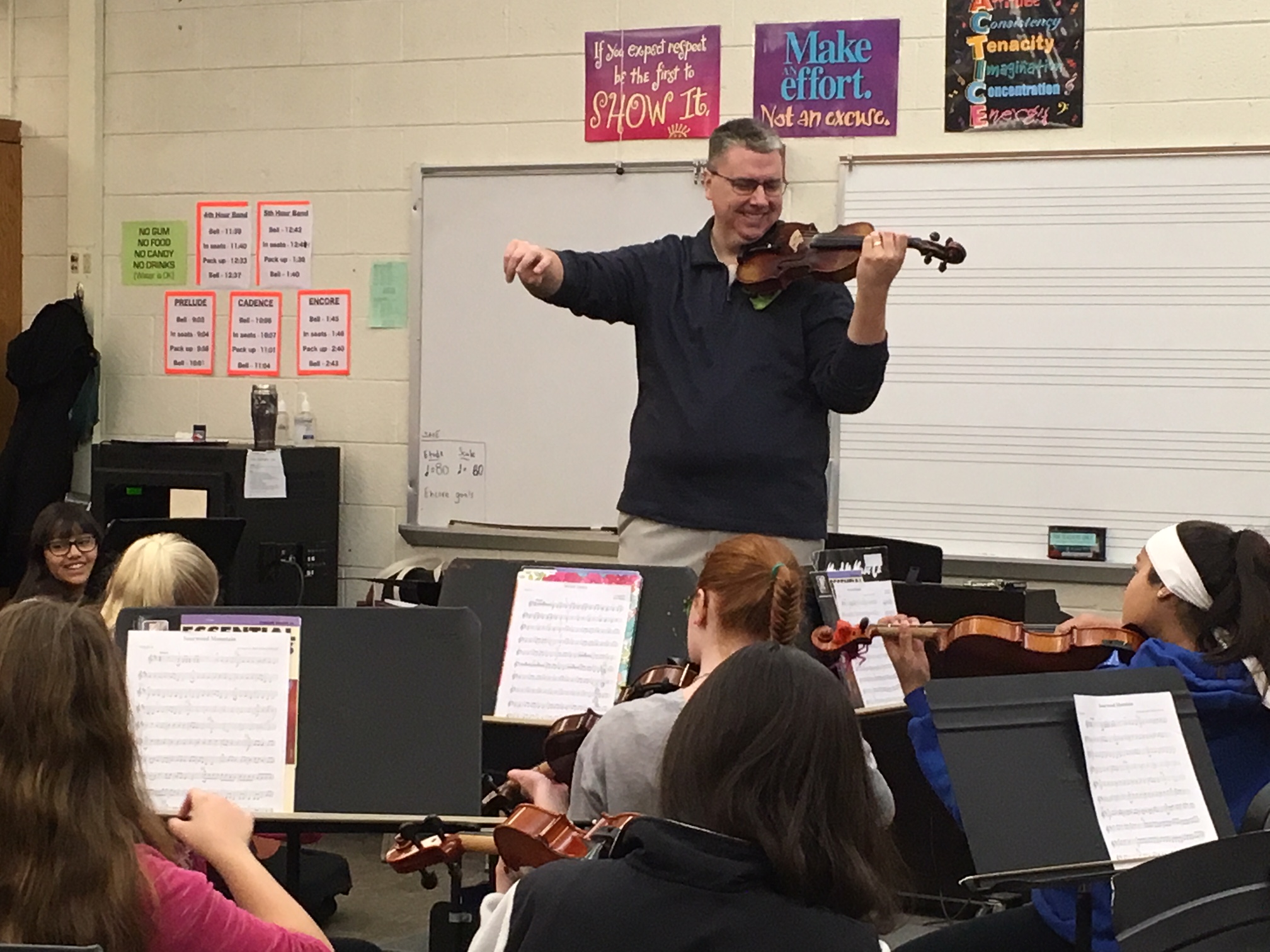 Jenison Orchestra Program
Tell us about the Jenison Orchestra Program:
The Jenison Orchestras have been recognized as one of the premier orchestra programs in the state of Michigan. All of Jenison Junior High and High School Orchestras have consistently received first division ratings at District and State Festivals and Solo and Ensemble competitions. The orchestras have been featured multiple times at the Michigan Music Conference and have performed with the Grand Rapids Symphony Orchestra, Moxie Strings, and Randy Sabien.
The Jenison Orchestra program consists of over 550 string players in grades 5 through 12. The 5th Grade Beginning Orchestra meets three times per week; twice weekly in big groups at the Junior High, and once weekly in smaller groups at each elementary school. The 6th Grade Intermediate Orchestra also rehearses three times per week. There are three orchestras at Jenison Junior High School that meet daily for one hour. The Junior High Orchestra Program also features a select group of string players during the Christmas season called "The Holiday Strings," who play each December in conjunction with the Grand Rapids Symphony Holiday Pops Concerts. The High School has four orchestras that each meet for one hour daily. The Concert Orchestra is made up of younger high school string players. The Sinfonia is an auditioned ensemble of string players in the 9th through 11th grades. The elite Symphony and Chamber Orchestras contain string players in the 10th through 12th grades. These players join with Jenison's most talented wind, brass, and percussion players for three concerts each year. All of our high school orchestras play many different styles of music and perform in the community at various events.
What makes Jenison unique?
Unlike many school districts, we make it a priority for our string teachers to work with many levels of classes, particularly our youngest students. All four of us work with our 5th and 6th Graders. Carol lead teaches all of the Junior High Orchestras, with help from Becky and Josh. Becky and Josh instruct the younger two High School Orchestras, while Dan takes the lead on the oldest two High School Orchestras, with help from Josh. This allows our students to feel very comfortable with all four teachers, and helps retention by minimizing transition issues between buildings. We also have several private teachers that come to Jenison during the school day to teach lessons during orchestra classes!
What is your favorite part of teaching in Jenison?
Jenison is a unique place in that our administration strongly prioritizes music instruction. Our orchestra program is part of a comprehensive K-12 program with an outstanding elementary music program, band program, and choir program. Our students are able to participate in more than one music ensemble all the way from 6th Grade until graduation. These music "doublers" are a huge asset to our orchestras, and end up being some of our top musicians!
How do you work together as a team?
All four orchestra directors place a high priority on working collaboratively across the grade levels and within the classroom. We share a lot of emails, messages, and phone calls! We have made it a priority to meet once a month (always with chocolate and beverages) to discuss program issues, pedagogy, and specific student concerns. We know how to egg each other on, laugh with (or at) each other, challenge each other, and to always continue the conversation about what is best for our string playing students!
Directors
Dan Scott is Director of Orchestras at Jenison High School. He is also Conductor of the St. Cecilia Youth Philharmonic, former Music Director at the MASTA Junior High String Camp and Camp Director of the MASTA string camps, and has taught at Blue Lake Fine Arts Camp and Knollcrest Music Camp. He also is a regular clinician at music conferences and school districts around the state. Dan loves residing in Jenison with his lovely wife and two daughters. He spends his free time golfing, listening to podcasts, and spending quality time with his Mac.
Carol Johnson is Director of Orchestras at Jenison Junior High. She came to Jenison in 2002, after teaching in the Lansing area for a few years. She earned her Bachelor and Master degrees in Music Education from Michigan State University, majoring on piano and violin. She has experience as the Music Director at MASTA Elementary String Camp, Co-director of the St. Cecilia Youth Sinfonia, and featured clinician at the Michigan Music Conference and at many area schools. She has been a violinist with the West Michigan Symphony Orchestra and Signature String Quartet. Carol enjoys composing educational orchestra literature and spending as much time as possible with her husband and two young sons.
Joshua Zallar, Assistant Director of Orchestras for Jenison Public Schools since 2016, came to Jenison from the Milwaukee area, where he had taught orchestra for eight years. A graduate of the Milwaukee High School of the Arts and Roosevelt University with a Bachelor of Music Education, Josh can regularly be found performing as a violinist with the West Michigan Symphony and Holland Symphony. He works with the elementary classes and with most of our high school orchestras in Jenison. He is excited to be in Michigan, and enjoys his four-year-old daughter and a two-year-old son and the Green Bay Packers.
Becky Bush, Assistant Director of Orchestras for Jenison Public Schools since 2017, she works with the 6th grade, junior high, and high school orchestras. Becky has spent the last several years as an Editor at Alfred Music Publishing, Adjunct Professor of Music Education at Grand Valley State University, and conducting the St. Cecilia Concert Orchestra. A graduate of the University of Michigan and Grand Valley State University, she performs as a violist with the Signature String Quartet, has been a music director at several music camps and has presented sessions at state and national music conventions. She spends her free time hiking, camping, going to Lake Michigan, and hanging out with her husband and four kids.